A Rustic Beach Stay in Cambutal
After our epic sailing adventure aboard Saltair3, the Stealth Wealth Family traveled along the Pacific coast of Panama to Playa Cambutal. We found La Finca through AirBnB (get $55 off your first stay) and were struck by how friendly and informative the host Sean was to us online. His written English was perfect; turns out he's from Colorado! He's a surfer turned ex-pat, and La Finca is a dream child that he's built himself over the past 6-8 years of living in Panama. He's even got his sister Abby and friends helping out. Abby now lives in Cambutal and helps with La Finca while also running her own little boutique down the way.
La Finca is a small, self-described "boutique hotel" on the road along Playa Cambutal. It's on the uphill side of the beach, but the jaunt down to the water is quick and easy. Each villa is beautifully decorated with thick stucco walls, wooden beams, and rustic wood furniture. Sean himself built and installed many of the built-in pieces in our room, from the sink countertop to the shower walls to the couch bed. Each villa also has an expansive deck overlooking the forested grounds below and the ocean, of course.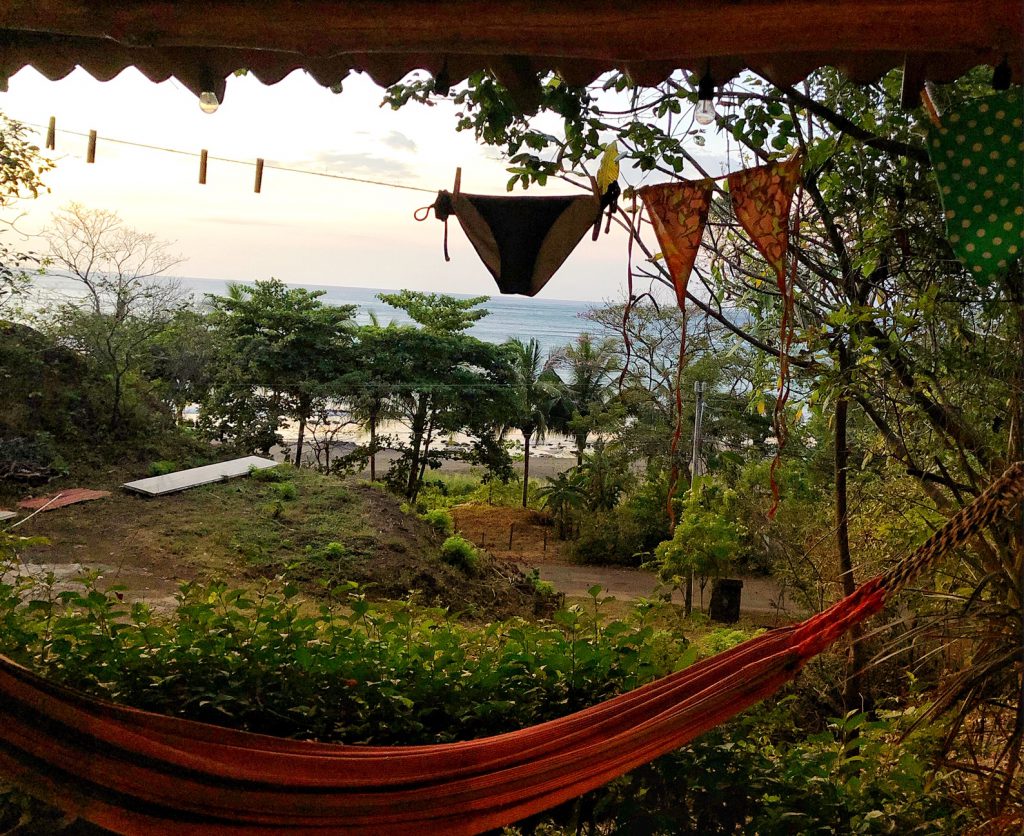 Cambutal is located at the bottom of the Azuero peninsula on Panama's Pacific coast. It took us approximately 6 hours by car to get there. We had a bit of an epic getting groceries, as we missed the largest store to stock up in Chitre, which was also the last place that took credit cards. We had to make the dreaded cash withdrawal from an ATM in nearby Tonosi in order to buy groceries. There is not much for groceries in Cambutal itself, and the stores in Tonosi don't take cards at all.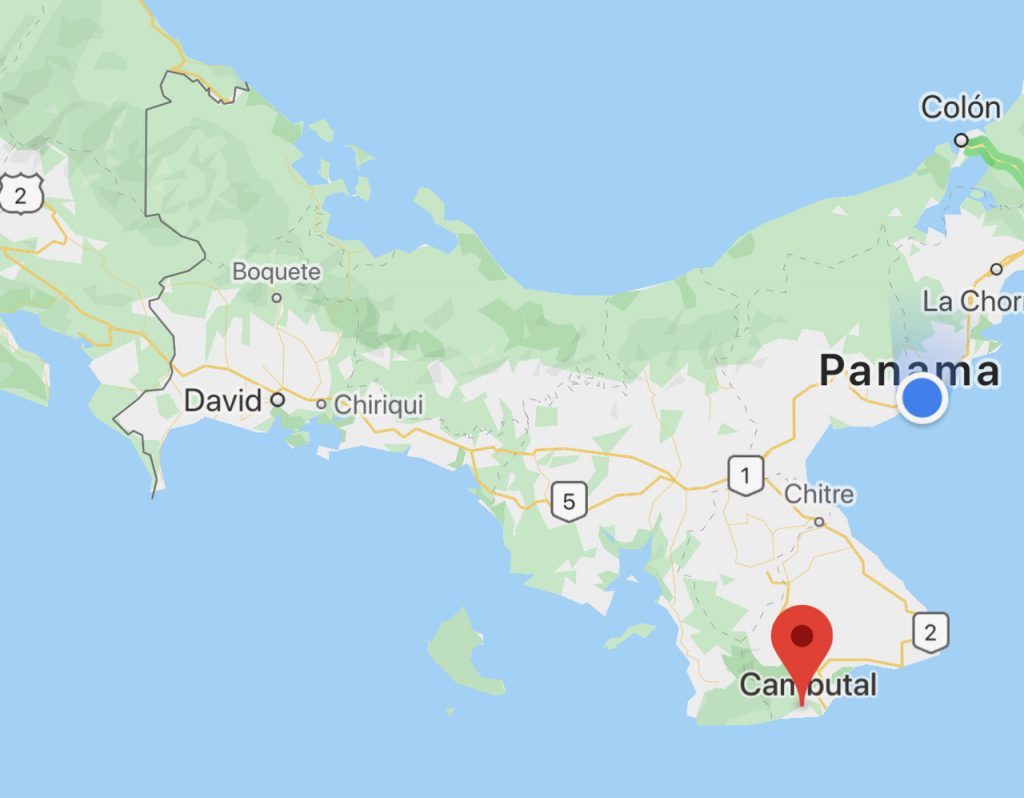 Slow Travel Our Way
While we tend to cook our own food at most AirBnB stays (and even sometimes do makeshift cooking in hotel rooms), it seemed that most of the visitors to Cambutal opt to eat at the nearby restaurants. We can't comment but we heard good things from other guests about the freshness of the fish and unique preparations. La Finca does however offer a continental breakfast in their communal kitchen each morning. This includes breads, cereals, juices, fresh cut fruit, good (not instant) coffee, and – the best part in our opinions – fresh eggs from their own chickens! We were concerned about how the eggs might be prepared, but to our surprise and delight, they were just left for guests to cook in their own manner – a big plus, as we're picky about how we cook "nature's energy bars" (butter or coconut oil only, no crappy vegetable oil for us).
La Finca is a study in contrasts. The modern amenities inside are juxtaposed to the rustic, "farmy" landscape. There were 4 chickens, 2 cats, and 1 dog hanging around, which Aspen loved. Bonus (or not): we saw one snake and a whole lotta bugs. If you're faint of heart, this might get you, but we chalked it up to us intruding on their territory. One can't help but relax there and tune out of everyday life, despite the ability to stay connected with fast internet. Other modern touches that we found particularly helpful: cold A/C in the rooms for comfortable sleeping, and water that is drinkable.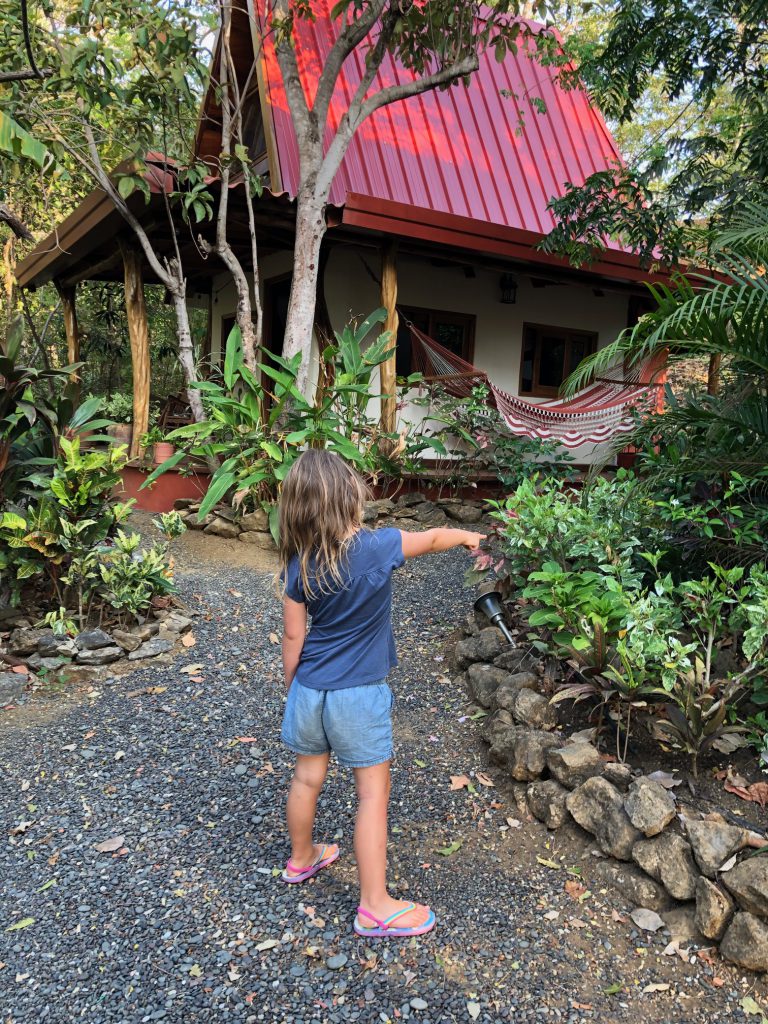 While we'd never stayed at an AirBnB with one before, the communal kitchen turned out to work great for us. We never had to fight over equipment or space in the kitchen (since no one else cooked dinner, and there are only a few other guests present on any given day anyway). We also had the opportunity (through Sean and Abby) to purchase fresh fish directly off the fisherman's pickup bed. He filleted the tuna, right in front of us, which we then seared for dinner!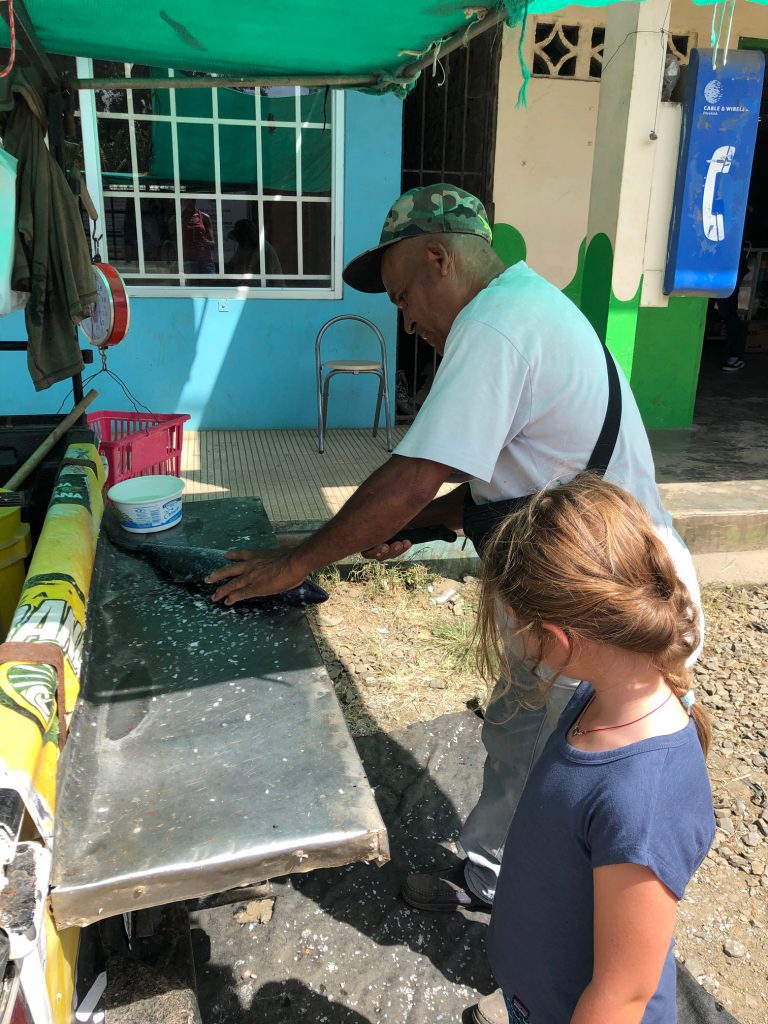 Worldschooling, Panama Style
Instead of cramming in the activities (there are some offered nearby: surfing lessons, yoga classes, and day-long fishing charters), we – as usual – decided to take it slow and just revel in all the learning that Aspen got to soak up while there. She learned how to take photographs with her tablet and then write the letters on the picture of what she was seeing. She identified trees and animals and birds and bugs. She spoke Spanish at the fruit stands. She learned more about tides and currents.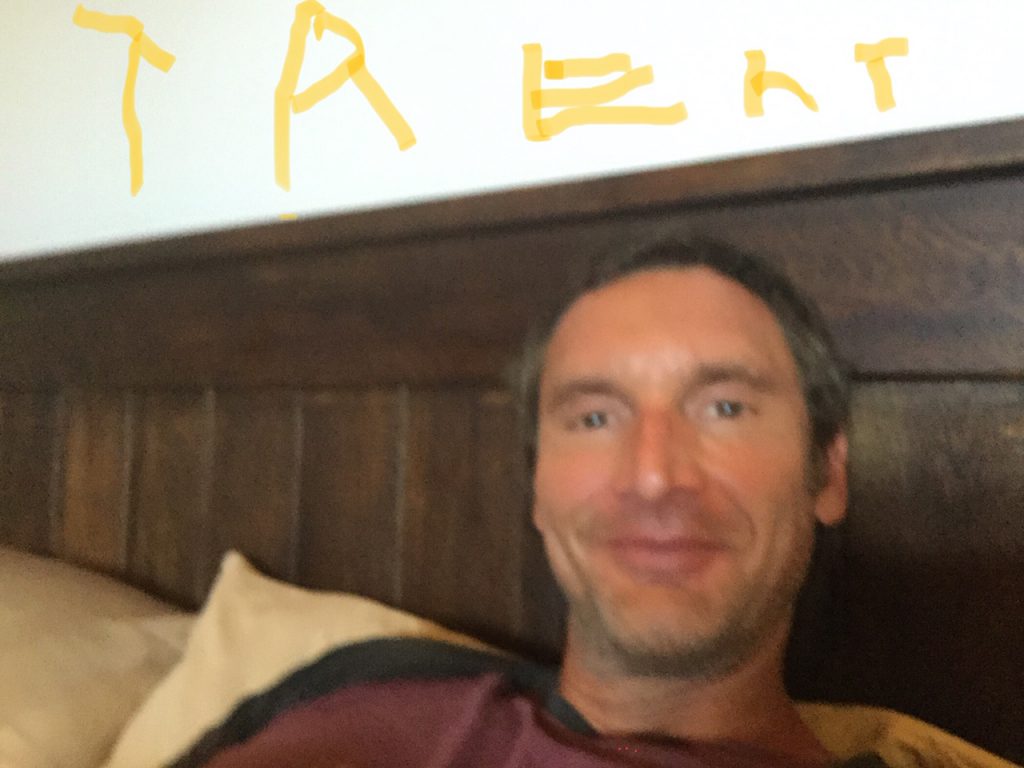 One morning, she could not stop talking about the "baby pineapple". Yeah yeah, we thought… Lo and behold, there was a pineapple tree growing nearby! As usual, our little "student" often becomes our teacher. Aspen then proceeded to plant seeds from the tasty fresh fruits in our breakfasts all around the grounds, letting Sean know where to look for them later.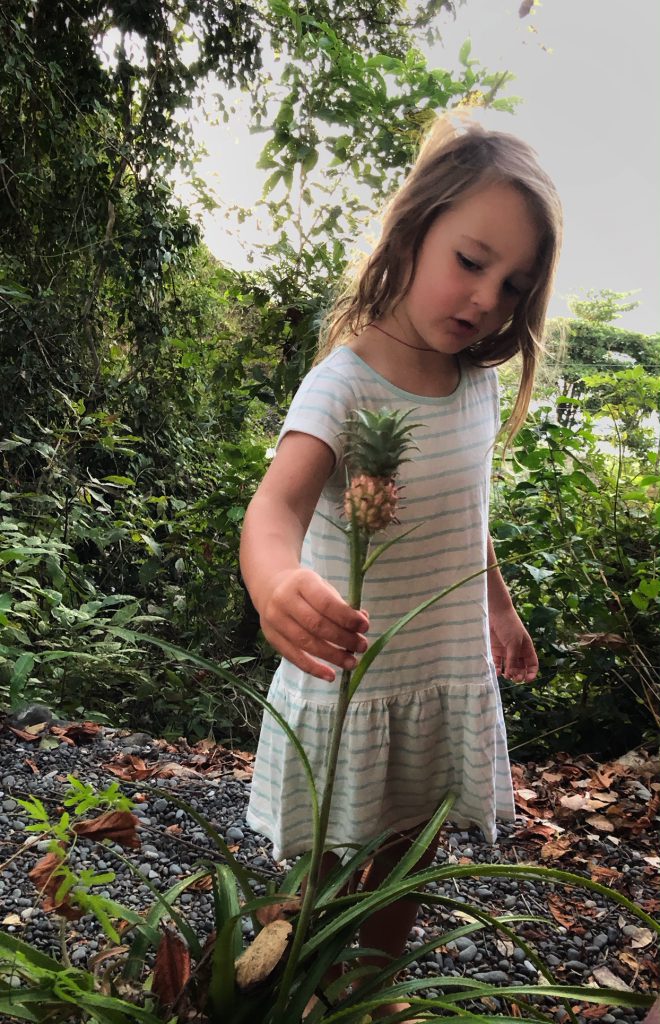 Speaking of kid-friendly, the beach right below La Finca featured a protected swimming area at low tide, with a flat sea floor and a mix of black and gold sands. We waited for the rock-lined protective wall to emerge from the ebbing tide each day before swimming, playing in the sand, and exploring the tide pools.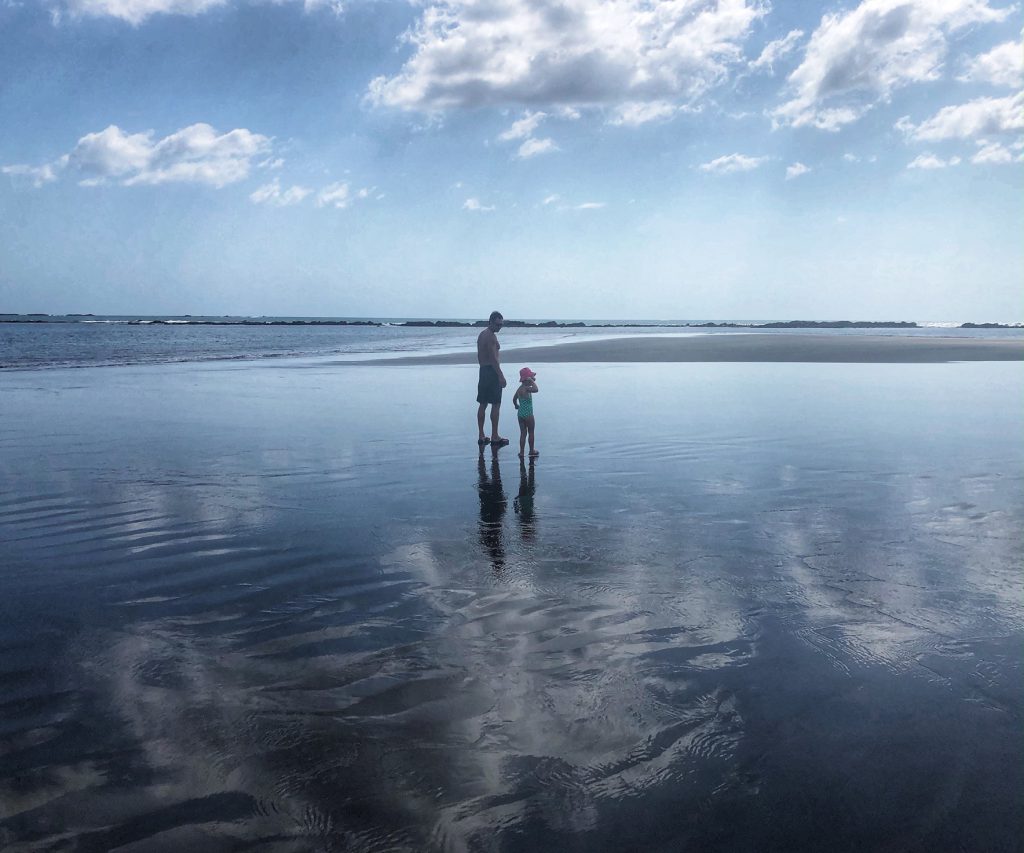 The Ideal Place To Combine Work With Play
Trent's hour-long morning meditations consisted of walking along the shoreline without seeing another soul. How often have you had that kind of experience? The internet was fast enough for him to conduct business as well. Dawn was left with lots of time to take photos and write things like this.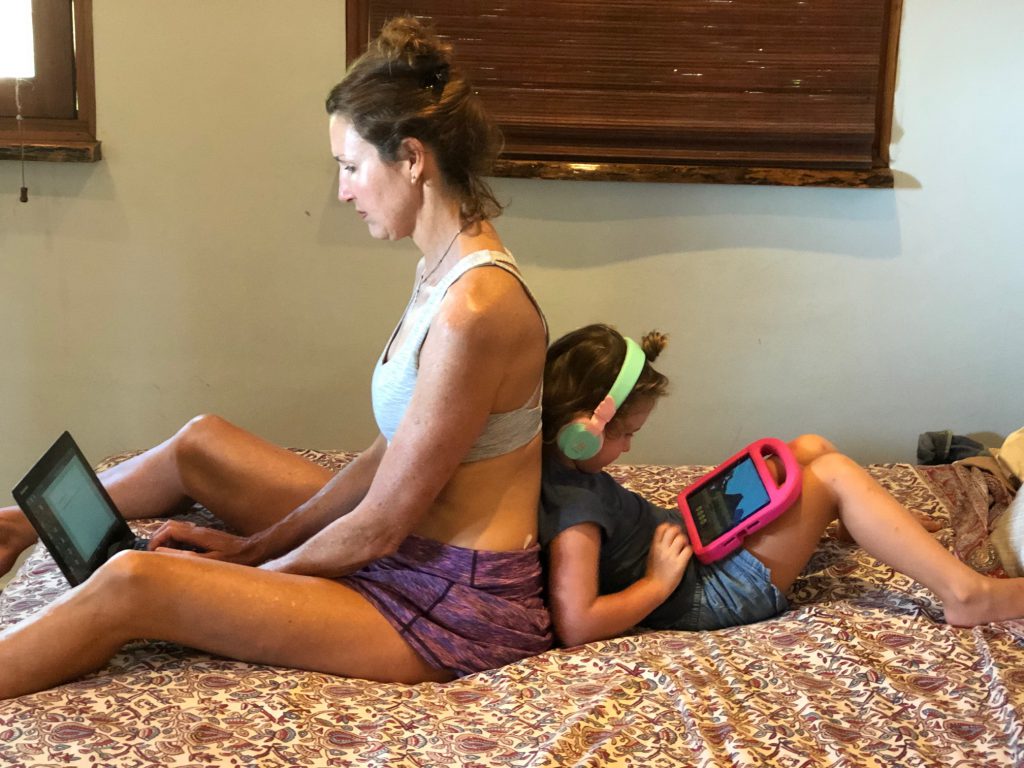 We'd definitely recommend La Finca as an off-the-beaten-path, quiet and rustic, yet modern place to stay.
Have you ever stayed in a place like this that combined rustic AND modern features? Tell us about it by leaving a comment below!